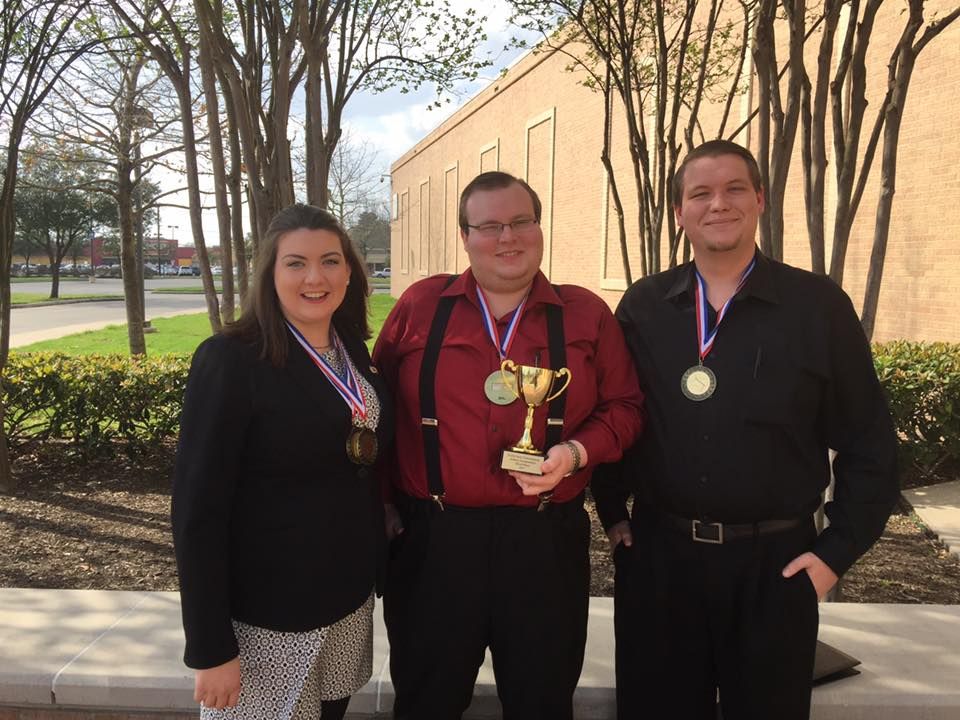 Building on the success of three back-to-back International Public Debate Association (IPDA) National Community College Championships, the members of the Mendoza Debate Society at Lee College have now added accolades that are a first for Lee College: Texas state debate championships.
For 2017, both the Texas Intercollegiate Forensics Association (TIFA) and the Texas Community College Forensics Association (TCCFA) have added IPDA-style debate to their state respective championship tournaments, and Lee College has made a statement by bringing home both state debate titles in consecutive weeks.
A select group of debaters competed in the 2017 TIFA State Championships held Feb. 3-5 in College Station, where Lee College debaters were the top three debaters during preliminary rounds.  Team Captain Kyle Diamond captured the 2017 TIFA IPDA Debate Speaking State Championship and finished as an IPDA Debate Octofinalist, while Josh Lyrock brought home the 2017 TIFA IPDA Debate State Championship.  Lyrock also finished as the second-ranked IPDA Debate Speaker, and Chrome Salazar finished as an IPDA Debate Quarterfinalist and took third place in IPDA Debate Speaking. Despite having one of the smallest entries in the field against top opponents like the University of North Texas, Texas State University, Lone Star College, San Jacinto College and nearly a dozen other university and community college programs, Lee College placed second in the TIFA Small School Sweepstakes.
Lee College also brought home the gold from the 2017 TCCFA State Championships held Feb. 10-12 at at San Jacinto College-North. Diamond won the 2017 TCCFA IPDA Debate State Championship, while Josh Lyrock finished in second place in IPDA Debate.  In a rare foray into Individual Events, Alyssa Hooks finished in sixth place in Extemporaneous Speaking and in seventh place in Poetry Interpretation.  And as at TIFA, despite taking just three debaters, breakout performances by Diamond and Lyrock allowed Lee College to finish in third place in TCCFA Overall Debate Sweepstakes against programs with triple and quadruple the number of entries.
Lee College debaters have won more than 70 awards and honors to date as they head toward the end of the 2016/2017 IPDA Season as the No. 1-ranked Community College in the Nation.  For the third consecutive year, Lee College boasts the No.1-ranked Team Debate pair (Diamond/Lyrock), the No.1 -ranked Varsity Debater (Diamond), and a host of other divisional Top Ten standings.
For more information about the Lee College Debate Team, contact Director of Forensics Joe Ganakos at jganakos@lee.edu or at 281.425.6502.