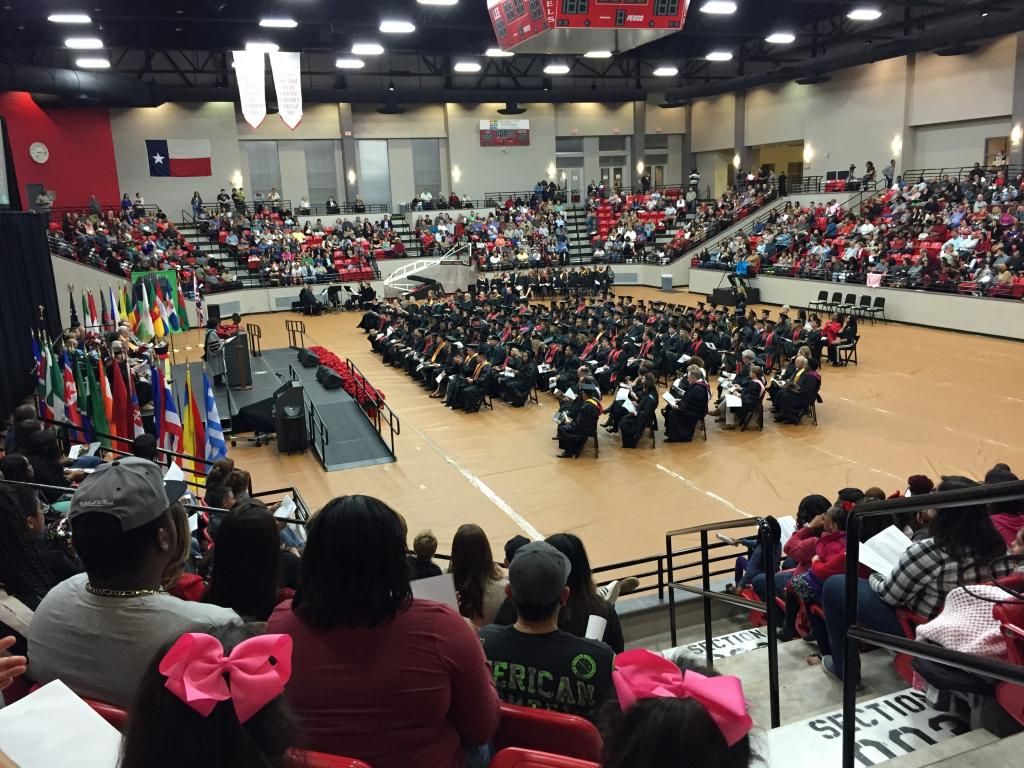 Surrounded by a throng of cheering family and friends, more than 150 graduates received associate degrees and certificates this past weekend at Lee College Fall Commencement — the first December graduation ceremony in college history.
"I can't tell you how proud we are for what you have accomplished at Lee College," Pres. Dr. Dennis Brown told the Class of 2014 at the start of the ceremony. "Tonight, we recognize each and every one of you. What you have done is yours to keep, and will always be yours forever. What you have done here, and what you will take from this place, will serve you the rest of your life."
Noting that many among the graduates were the first in their families to attend college, keynote speaker Carolyn Watson, Vice President of Corporate Responsibility for JPMorgan Chase, began her address by sharing a personal anecdote about her grandfather. He raised six children by himself and never finished his own schooling, but made sure each of his children received a college education, she said.
"It's amazing how far families can advance in just one generation through education," Watson said.
She encouraged the graduates to ask themselves three key questions as they prepared to embark on the next chapter of their lives: what do they want to be when they grow up, what can they give back to their communities, and why not me? The answers to those questions become guiding principles for a life well lived, she said.
"Growth is a choice," Watson said. "It's about developing a vision, then using that vision to make pro-active choices about what you want in your life. Right now, there's someone out there who needs you. If you get involved, it's going to chance someone's life and make you happy at the same time."
No one can win every race or competition they enter, but the possibility for failure should never be a reason not to try, she said. Looking back, the moments we regret most are the chances that we were too scared or afraid to take.
"Shrinking back from an opportunity or challenge doesn't enlarge your soul," Watson said.