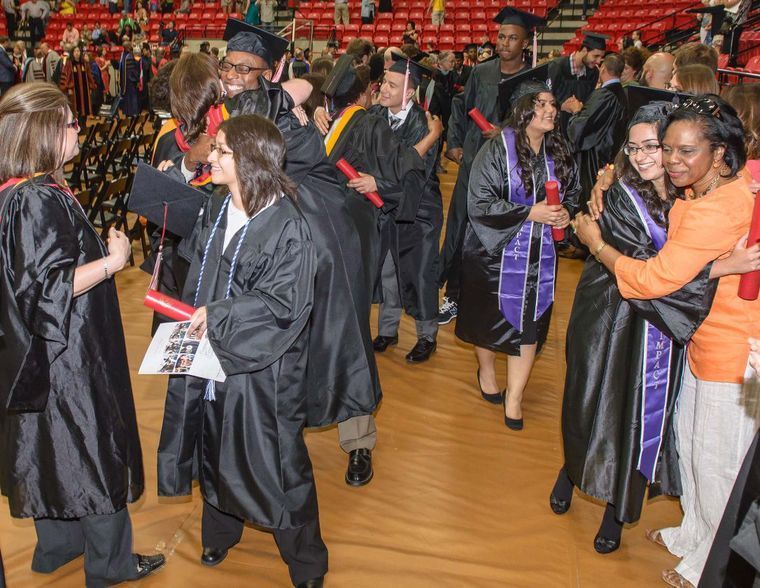 For Judge Don Coffey, attending Lee College and being elected to the Board of Regents were significant emotional events that changed the course of his life. He hoped the Class of 2015 would look back on their graduation day and realize they, too, had been profoundly changed by their college experience.
"I view this degree or certificate that you have earned today as a contract," Coffey told the more than 200 graduates who participated in spring commencement exercises during his keynote address. "This contract can never be revoked, and it will last forever. My hope for you is that today will forever change your view of what you can achieve. We, the Lee College family, are in the business of changing lives."
Family and friends packed the Sports Arena for the 10 a.m. and 1 p.m. commencement ceremonies, which were streamed live online through the college website. Pres. Dr. Dennis Brown opened the events by congratulating the graduates and encouraging them to show appreciation to the loved ones whose support made a difference as they worked to complete their Lee College education.
"I'm seeing so many smiles and broad grins on our graduates' faces and they certainly deserve it," Brown said. "You've worked hard and today is your day — but it is also just the beginning of your future. There are many more successes that you will achieve in your life."
Seated amongst the graduates in the morning ceremony were 28 students from the IMPACT Early College High School, a partnership between Lee College and the Goose Creek Consolidated Independent School District (GCCISD) that allows students to simultaneously complete their high school diploma and earn 60 hours of college credit. GCCISD Superintendent Randal O'Brien joined Brown on stage to present degrees and certificates to the IMPACT students.
"IMPACT Early College High School blends the high-school curriculum with the rigors of higher education," O'Brien said. "Parents and families, thank you for being a difference-maker in the lives of these students. Students, I charge you to go further, strive to quest for knowledge, become a lifelong learner, and create change for a better world."
Board of Regents Chairwoman Susan Moore-Fontenot offered similar wishes to the Class of 2015, urging the graduates to see the milestone as an opportunity to take stock of their lives and assess the bright futures ahead of them. Lee College provided them the knowledge, vision and confidence to pursue their dreams, she said.
"You have been trained by master teachers who are the lifeblood of this college," Moore-Fontenot said. "You are to great places and will make a significant impact in so many lives, and you're well-equipped with marketable credentials to face this daunting world."